Thursday 4 April 2019
Uzbekistan to Set Up €182 mln Agro-Industrial Complex with UAE's Help
Keywords: UAE
0 forum post
TASHKENT (Ministry of Agriculture press service) – During the visit of the President of Uzbekistan to the United Arab Emirates (UAE), an agreement was reached for the creation of a €182 mln agro-industrial complex in Uzbekistan.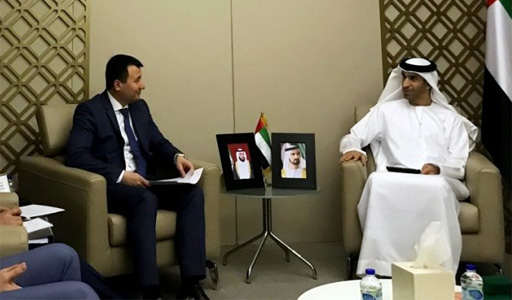 The visit resulted in the signing of a set of investment documents and agreements worth more than $10 billion.
According to Ministry of Agriculture of Uzbekistan, during the visit of the State delegation, a number of meetings and negotiations with private organisations took place. An agreement has been reached with the industrial innovation group on the creation in Uzbekistan of an agro-industrial complex for the cultivation and processing of cellulose, worth €182 mln.
During the negotiations with Thani Al-Zyodi, Minister of Environment and Climate Change of the UAE, topical issues concerning bilateral cooperation between the two countries were discussed. Thus, the UAE can become a hub for Uzbekistan's fruit and vegetable production in the markets of the countries of the region.
In addition, in order to increase the supply of agricultural products in Uzbekistan, visits will be organized by Emirati companies. The UAE has expressed its readiness to help its Uzbek colleagues restore desert and unsuitable land by participating in infrastructure projects, as well as through the exchange of experience and technology.
The Ministry and AIDA have also signed a framework agreement providing for the creation of autonomous solar power plants to supply remote agricultural objects. As part of the pilot phase of the project in Uzbekistan, representatives of the company are expected to visit Uzbekistan to determine the parameters for the construction of autonomous micro-power plants in isolated irrigated lands.