Monday 8 April 2019
Uzbekistan Pavilion Present for the 2nd Time in Cannes
Keywords: France
0 forum post
TASHKENT (Satrapia) — For the second time, Uzbekistan will have its national pavilion at the 72nd Cannes International Film Festival, which will be held from May 14 to 22.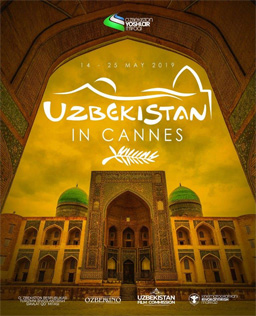 The National Film Commission of Uzbekistan had signed an agreement with the management of the Cannes Film Festival, following which the national pavilion is being organized. The pavilion is being organised by the Uzbek Youth Union, the State Committee on Tourism, the Uzbekkino National Agency, the Centre for Film Development, the National Film Commission of Uzbekistan and the Embassy of Uzbekistan in France.
During the work of the film festival, it is planned to organize events to promote film tourism and outstanding sites in the country, as well as to invite film personalities in Uzbekistan to make new films.
For the first time, the Uzbekistan National Pavilion was presented at the Cannes International Film Festival in 2018. In February 2019, the young filmmakers participated for the first time in the Berlin International Film Festival (Berlinale), where they were able to forge partnerships with many representatives of European cinema.