Uzbekistan, Kazakhstan Agree to Boost Trade-Economic Cooperation
Monday 15 April 2019
TASHKENT (Xinhua) — The presidents of the two central Asian nations of Uzbekistan and Kazakhstan have agreed in Tashkent on Monday to boost trade and economic cooperation, avoid double taxation, cooperate in air defence, and develop cultural ties.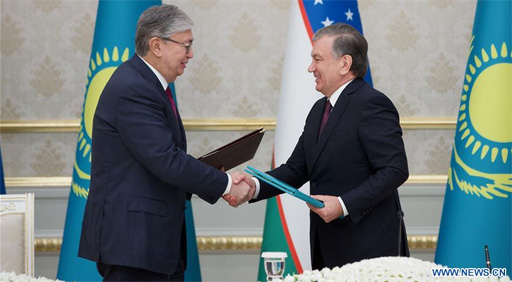 Uzbekistan's President Shavkat Mirziyoyev and his visiting Kazakhstan's counterpart Kassym-Jomart Tokayev told reporters following their talks that two neighboring countries plan to raise trade turnover from the current $3 bln to $5 bln by the end of 2020.
The heads of state noted in a joint statement that the talks were held in the spirit of openness and the entire agenda of cooperation was thoroughly discussed, and mutually beneficial agreements were reached.
The documents signed as the result of talks also included fighting illegal migration, protection of the rights of migrant workers in both countries.
An air defence cooperation agreement between the two countries included accepting each other's military aircraft at Uzbek and Kazakh airports, providing technical support and safeguarding.
Both presidents also attended the opening of the Year of Kazakhstan in Uzbekistan aimed to develop cultural ties.