Wednesday 13 March 2019
The Navoi Region to Become a Business Centre
Keywords:
0 forum post
TASHKENT (President press service) — The Navoi region of Uzbekistan should become a region of entrepreneurs, said President Shavkat Mirziyoyev at a meeting with local leaders to present the tasks to be accomplished for its integrated development.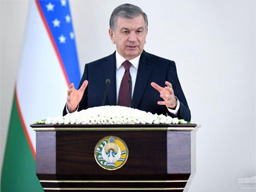 During the meeting, President Mirzieyev declared:
To give a powerful impetus to the development of entrepreneurship in the region, it is necessary to create here such a favourable and attractive business climate, which would increase the interest in engaging in entrepreneurship not only among local residents, but also the population of other areas. The Navoi region should now become the region of entrepreneurs.
Mirziyev proposed to transform the Navoi region into a free economic zone for innovative and high-tech export-oriented industries. A special committee headed by the Deputy Prime Minister will be set up for this purpose and a system of benefits and preferences for participants from this economic area will be defined.
For the Navoi region, it follows that a programme designed for 2019-2020, covering 511 investment projects with a total value of 26,360 bln soums, has been developed. Under this programme, $1 bln of foreign direct investment and loans are planned to be used to create 17,400 new jobs. In particular, it is planned to implement 12 major projects in the Navoi thermal power plant, in the joint stock companies Kyzylkumcement, Navoiazot and in other sectors.
President Mirziyeev tasked with analysing the region's agricultural potential, taking measures to increase the production of clothing and knitwear and astrakhans, as well as increasing exports.