Tajikistan and Uzbekistan Signed a Protocol on Customs Cooperation
Wednesday 14 June 2017
Keywords:
BAKU (Avesta news agency) — Some 20 issues were considered during the 65th meeting of the Council of the Heads of Customs Services of the CIS countries, which is taking place today, on June 14 in Baku, the capital of Azerbaijan. As reported by the Customs Service of Tajikistan, Tajikistan is represented by the head of the Customs Service of the country Abdufattoh Goyeb and the head of the Tariff and Customs Regulation and Currency Control Department Isatullo Zaydulloev.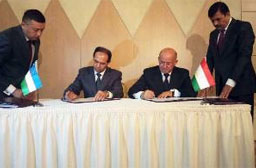 The heads of the customs services of the CIS countries considered the draft Protocol on Amendments and Additions to the Agreement on Cooperation and Mutual Assistance in Customs Affairs of April 15, 1994, the draft Agreement on the exchange of information necessary for determining and controlling the customs value of goods in the CIS countries, The risk management system in the activities of the customs authorities of the CIS member states, the draft standard technology of interaction between customs authorities and railway administrations of the state Rst-participants of the CIS in the customs clearance of goods transported by rail, the introduction of amendments and additions to the Regulation on the unified procedure for imposition by CIS customs authorities on transport and commercial documents of seals and stamps of customs authorities of sending countries and transit countries, draft Agreement on training, professional retraining And improvement of professional skill of officials of customs bodies of the CIS.
Amendments have also been made to the Agreement on the Transit through the Territories of the CIS Member States of June 4, 1999, to the Agreement on the Procedure for Customs Clearance and Customs Control of Goods Moved between the States Parties to the Agreement on the Establishment of a Free Trade Area of October 8,
As reports Trend news agency, following the results of the meeting between the Customs Service of Tajikistan and the State Customs Committee of Uzbekistan, a Protocol on cooperation and mutual assistance in customs affairs was signed, as well as a protocol on the procedure for interaction when comparing customs statistics on mutual trade.