Rahmon Invited Mirziyev to Visit Tajikistan
Tuesday 21 August 2018
DUSHANBE (TajikTTA) — Tajik President Emomali Rahmon invited Uzbek President Shavkat Mirziyev to visit the republic at a convenient time. This invitation is reflected in a joint statement of the presidents of Uzbekistan and Tajikistan signed during the state visit of the Tajik leader to Tashkent.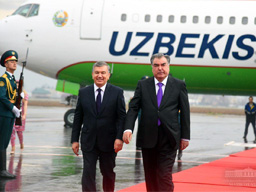 In this document, the Tajik leader expressed gratitude to the leadership of the country and the entire Uzbek people for the hospitality extended to the delegation of the Republic of Tajikistan, cordial and hearty welcome. The state visit of the head of Tajikistan to Uzbekistan was held on August 17-18 at the invitation of the president of the neighbouring republic.
With the election of Shavkat Mirziyoyev as President of Uzbekistan, Uzbek-Tajik relations, as well as relations between Uzbekistan and its neighbours in Central Asia, entered a new era of friendship, opposed to aggressiveness of Karimov. Mirziyoyev and Emomali Rahmon have met several times since September 2016, and in March 2018, Mirziyoyev made an historic visit to Dushanbe, where 27 bilateral agreements were signed.