Tuesday 28 August 2018
Qarshi-Kitab Railway Modernized
Keywords:
0 forum post
TASHKENT (Temir Yollari press service) — The modernization and electrification of the 124 km Qarshi-Kitab railway has been completed.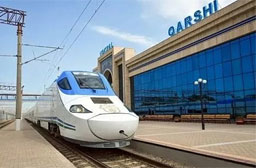 On August 25, experts began technical testing in the direction of Qarshi-Kitab. An electric locomotive passed by the modernized line, and the high-speed Afrosiyob train followed for the first time.
JSC Uzbekistan Temir Yollari coped with the task in a short time. 124 km of steel tracks are modernized and electrified, surrounded by a special railroad fence. In this direction, new stations have been constructed, stations have been reconstructed, 2 bridges and about 20 structures have been built.
More than 300 specialists are involved in construction work; about a hundred units of modern construction equipment are used. Within the framework of the project, such works as the installation of reinforced concrete pillars, consoles and contact networks have been completed. In addition, one electrical substation has been built and put into operation.