Wednesday 10 February 2021
New Methanol-to-Olefins Complex in Bukhara
Keywords:
0 forum post
TASHKENT (UzReport) — Jizzakh Petroleum, an oil and gas company focused on developing Uzbekistan's energy sector, has announced significant progress in the construction of a new gas chemical complex based on methanol-to-olefins (MTO) technology.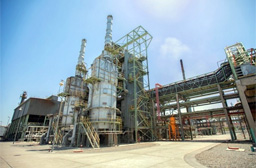 The MTO project has no comparison in the CIS region based on both the planned scale and technical capabilities of the plant.
When completed, the new gas chemical complex is expected to process 1.5 bln m³ of natural gas per annum and manufacture more than 700 kta high-quality polymers used in many sectors of the worldwide economy.
Successful completion of the project will further diversify Uzbekistan's economy, develop its domestic textile, chemical and parapharmaceutical industries, and reduce import levels into Uzbekistan.
Jizzakh Petroleum is a major investor in the project located in the Bukhara region of Uzbekistan, which will use domestic feedstock to enable monetization of natural gas, via the production of export-oriented and high value-added products in demand within the country. The creation of the future Gas Chemical Complex will lead to the development of the domestic textile industry, as well as import substitution and an increase of production in the automotive and construction industries.