Thursday 19 April 2018
Lukoil Commissions Gas Processing Complex in Uzbekistan
Keywords:
0 forum post
MOSCOW (Lukoil press service) — Today LUKOIL has commissioned a Gas Processing Complex at the Kandym fields cluster in Uzbekistan.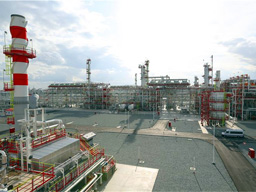 The official opening ceremony was attended by the President of the Republic of Uzbekistan Shavkat Mirziyoyev, Minister of Energy of the Russian Federation Aleksander Novak, Ambassador Extraordinary and Plenipotentiary of the Russian Federation to the Republic of Uzbekistan Vladimir Tyurdenyov, Ambassador Extraordinary and Plenipotentiary of the Republic of Korea to the Republic of Uzbekistan Kwon Yong Woo and the President of PJSC "LUKOIL" Vagit Alekperov.
The construction of the Kandym Gas Processing Complex was completed exactly two years since its start and eight months ahead of the schedule set by the President of Uzbekistan. Around ten thousand people were involved in the construction, while over two thousand permanent working places are created with the launch of the Complex. In total, around three thousand people are employed by LUKOIL in Uzbekistan with over 90% of them being citizens of the Republic.
The new Gas Processing Complex with the annual capacity of eight billion cubic meters of gas is designed to convert gas from the Kandym fields cluster to marketable gas, stable gas condensate, and marketable sulphur. There are 77 wells drilled and a gas gathering facility established at the Kandym field cluster. The commissioning of the Complex will allow to launch the pre-drilled wells at the field and achieve the projects' plateau production level within a short timeframe.