GM Uzbekistan ups sale of cars in Russia by 40% in Jan.-June
Friday 15 July 2011
GM Uzbekistan sold 45,127 automobiles in Russia in January-June 2011 or 40% more than last year, ranking tenth on the sale volume in the Russian market, the Committee of Automakers Association of European Business reported.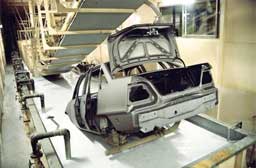 The company sold 26,097 Nexia models in Russia in January-June 2011 (a growth rate of 40%) and 19,030 Matiz models (a growth rate of 39%).
Nexia ranked ninth among the best sold cars in Russia in the first half of 2011, and Matiz - 16th place.
GM Uzbekistan is an joint venture between the Uzbek OJSC UzAvtosanoat and the US American General Motors Company. Following the partial association with Daewoo Motor, Chevrolet got information about this Uzbek car manufacturer. After several years of negotiations Chevrolet and GM Daewoo had finally completed them successfully in 2007. As a result of the successfully negotiations the GM Uzbekistan was founded. GM Daewoo is located in Asaka and divides the assembly plant with the separate company Uz-DaewooAvto.
GM Uzbekistan began production on November 2008. The first assembled car was the Chevrolet Lacetti which also was the 1,000,000 assembled vehicle out of the production from UzAvtosanoat.
The annual production of GM Uzbekistan are 250,000 units. Since the beginning of the third quarter Chevrolet manufacturs in Asaka the Chevrolet Spark M300 which is currently intended only for export. The assembled models are CKD and SKD kits, but GM Uzbekistan plans to manufacture up to 50% of all needed parts.
About 5,000 employees work at the GM Uzbekistan assembly plant.