Thursday 28 March 2019
GM Helping Uzbekistan to Locate Parts for New Cars
Keywords: South Korea
0 forum post
TASHKENT (UzAuto press service) — GM (United States) and the Korean GM Suppliers Association will help Uzbekistan locate spare parts for new cars.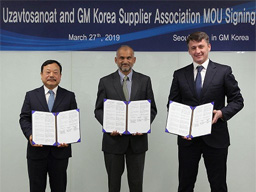 The memorandum of understanding between Uzavtosanoat, General Motors (United States) and the Association of GM Suppliers in Korea (South Korea) was signed on March 27 in Seoul during the 2nd meeting of Deputy Prime Ministers of Uzbekistan and the Republic of Korea.
The Parties agreed to support the development of the automotive industry in Uzbekistan through cooperation on the location of automotive components and spare parts for new cars to be produced by GM Uzbekistan. The companies are also considering attracting Korean suppliers for localization projects in Uzbekistan. The meeting noted that the priority area of cooperation would be to attract foreign direct investment in these projects.
In addition, the parties agreed to organize a supplier symposium in Uzbekistan in June 2019, at which all business opportunities in Uzbekistan will be presented to Korean partners.