English Teachers in Uzbekistan to Be Evaleted by a Swedish Company
Wednesday 13 February 2019
TASHKENT (uzedu.uz) — The Swedish company EF Language Learning Solutions will assess the level of knowledge of all English teachers in Uzbekistan. The Memorandum of Understanding was signed today by the Ministry of Public Education (MEP) of Uzbekistan and EF Language Learning Solutions (Sweden).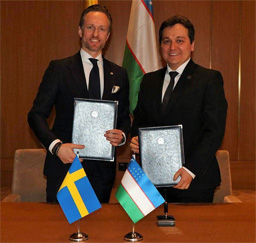 "EF Language Learning Solutions has expressed its willingness to help test English teachers throughout Uzbekistan free of charge and determine their level of knowledge. Teachers who have passed the test can be sent to European and American universities for training or professional development", said the MEP's press office.
In addition, the company offered its assistance for the preparation of Uzbek teachers based on the EF Standard English Test training certificate (internationally recognized), equivalent to IELTS/TOEFL. As a next area of cooperation, the introduction in Uzbekistan of the platform National Assessment of Educational Level has been defined.
Other areas of cooperation include the organisation of training for those responsible for the public education system. The Swedish company will contribute to the organisation of vocational training for specialists in strategic sectors of the Uzbek economy.
The Parties intend to cooperate in the organisation of various seminars and events, as well as research.