Thursday 2 August 2018
EBRD Provides Funds for MSME Support in Uzbekistan
Keywords:
0 forum post
LONDON (EBRD press service) — Strengthening its support for the private sector in Uzbekistan, the EBRD is providing a synthetic local currency loan of up to $5 mln to DAVR Bank. This is the first EBRD loan to the bank aimed at expanding access to finance for local micro, small and medium-sized enterprises (MSMEs).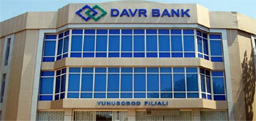 DAVR Bank to receive $5 mln credit line for on-lending to small businesses:
$5 mln loan to DAVR Bank to support small businesses in Uzbekistan
Sub-loans will be available in local currency and will offer longer maturities
The loan agreement was signed in Tashkent yesterday during a visit by EBRD President Suma Chakrabarti, who said:
Following a new stage of our engagement with Uzbekistan, our Bank has identified several key areas and SME funding is one of them. Today's signing shows our firm commitment to provide further support to this significant sector of the country's economy.
The EBRD loan will allow DAVR bank, a privately owned financial institution in Uzbekistan established in 2001, to further develop its small-business lending practices, expand its client base and offer loans with longer maturities to firms around the country.
DAVR bank will receive technical assistance supported by the Republic of Korea under the Financial Institutions Development Programme in Uzbekistan to strengthen its institutional capacity through the development of SME lending practices and the improvement of risk management.
Between 1992 and 2010, the EBRD invested €894 mln in Uzbekistan in 54 projects. Following its re-engagement after significant changes in the country, by the end of 2017 the Bank had signed its first six new operations in Uzbekistan since 2010 for a total of over €153 mln.