Saturday 1 July 2017
Cement Plant Put Into Operation in Qoraozak District
Keywords:
0 forum post
TASHKENT (UZA) – The cement company Karakalpak has begun its production in Qoraozak District of the Republic of Qoraqalpoghiston, north-western Uzbekistan.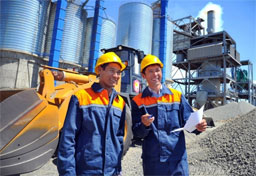 This enterprise specializes in the production of cement from local raw material.
At the first phase of this $40 mln dollar project, $17 mln are until now used. 200 people were provided with jobs.
Anvar Shukurov, the director of the enterprise declared:
The overall production capacity of our enterprise is 1.2 mln tonnes of cement a year. This project will be implemented in three phases. The first phase has been completed. The second phase will be implemented by the end of this year. The production capacity of this plant will double. The third and final phase will be completed in the year 2018 and will make it possible to produce additional 700 thousand tonnes of the product. In the first two phases, cement will be produced with the use of a new technology — a vertical furnace. The third phase envisages the introduction of an even more productive line. Cement will also be exported.