Monday 8 April 2019
Alternative Textbooks Allowed in Uzbekistan
Keywords:
0 forum post
TASHKENT (UzTAG) — Alternative textbooks, offered by private publishers, may in the near future be used in Uzbekistan's schools.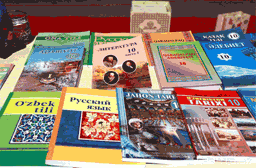 According to the Ministry of Justice, this is included in the Regulation on the creation and use of alternative textbooks for general education schools in Government Decree N° 281 of 5 April.
The list of textbooks and teaching materials created and recommended by the Ministry of Public Education for the coming academic years, as well as the requirements for them, will be published in the media and on the Ministry's official website one year in advance.
The textbooks and teaching materials created will be submitted to the working group in a schematic format and will be reviewed by an expert group set up by the Ministry within two months. The most appreciated original mock-ups will then be submitted by the working group for approval to conduct tests by the Coordination Council within one week. The list of schools where the tests will be carried out is approved by the Coordinating Council within one week.
The use of alternative textbooks that have obtained more than 95% of the scores will then be recommended to schools, as well as textbooks created for rental.