Wednesday 12 May 2021
Ghani Discusses Peace Process With Pakistan, UK Army Chiefs
Keywords: Afghanistan conflict, Pakistan, UK
0 forum post
KABUL (BNA) — President Mohammad Ashraf Ghani met with Pakistan army chief Gen. Qamar Javed Bajwa and Gen. Sir Nick Carter, Britain's Chief of the Defence Staff and Head of the British Armed Forces, in Kabul on late on Monday, the Presidential Palace said in a statement.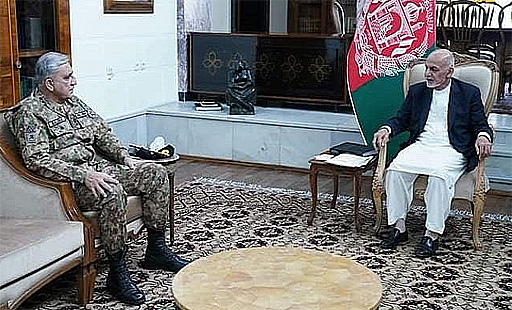 The peace process, Afghanistan's relations with Pakistan, Pakistan's role in the peace process and end of violence in Afghanistan were discussed in the meeting, the Palace said.
In this meeting, President Ghani said that the role of countries in the region, especially Pakistan, is critical for peace in Afghanistan due to its influence on the Taliban. He said the two countries have no option but mutual respect and good neighbourly and economic cooperation, according to the Palace statement.
President Ghani said that the war in Afghanistan does not have a military solution. He said that the Taliban's insistence on a military solution is not acceptable for Afghan people who want a just and enduring peace through negotiations. He said stability in both countries is connected with the other and called for a sincere role to be played by Pakistan in ensuring a just and enduring peace in Afghanistan.
Bajwa also met with Abdullah Abdullah, head of the High Council for National Reconciliation. In this meeting, Bajwa said that his country believes that there is no military solution in Afghanistan and that the only way is through achieving a political solution via negotiations and agreement on the establishment of an all-inclusive government, according to a statement by Abdullah's office.
Abdullah said the Taliban wants to impose a military solution, but this will prolong the violence and will fuel people's opposition against the group. He added that Afghans, regional countries and the world are in favour of a peaceful Afghanistan in which the Taliban would be integrated into the system.
Abdullah reiterated that a military solution is not practical and is not acceptable for the people of Afghanistan. Both sides also stressed the need for meaningful negotiations between the Islamic Republic of Afghanistan and the Taliban, the statement said.
Bajwa's trip to Kabul comes as the Taliban has announced ceasefire for three days of Eid. President Ghani also ordered Afghan forces to observe the ceasefire, but he reiterated that there should be an agreement from the Taliban for a permanent and real ceasefire, which is the demand of the people and the government of Afghanistan.