Thursday 1 April 2021
Salma Dam Turbines Activated
Keywords:
0 forum post
HERAT (BNA) — Three turbines of Salma Dam were activated in Herat, adding so 31 MW to the Herat electricity grid.
Salma Dam irrigates also fields and gardens in eight districts of Herat.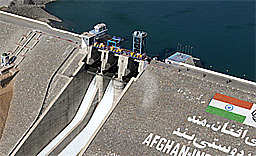 The Salma Dam is a hydroelectric and irrigation dam project located on the Hari River in Chishti Sharif District of Herat Province in western Afghanistan. It is a 107.5 m high embankment earth and rock-fill dam with a length of 551 m. Ir has a storage capacity of 633 mln m³ of water, has a catchment area of 11,700 km² and can generate 42 MW of electricity. Since it was funded by the Indian Government, it is also known as Afghan-India Friendship Dam.