Sunday 22 February 2015
Several Mineral Deposits Discovered in Bamyan
Keywords:
0 forum post
BAMYAN CITY (Pajhwok Afghan News) – Initial surveys have found large deposits of several high quality natural resources in central Bamyan province, which, if extracted, could generate work opportunities for thousands of people and increase government's income. One of the surveys conducted by Bamyan Mines Department shows several deposits of iron, copper, aluminium and precious and semi-precious stones exist in the province.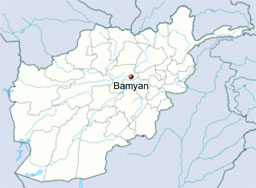 The survey also finds a mine containing decorative stones. Another survey conducted in Dara-i-Sabz area of Bamyan City discovered a granite deposit and a coalmine in Sighan district.
Mines Department head Hamidullah Lali told Pajhwok Afghan News in an exclusive interview the initial surveys discovered mines of muscovite stones, jade stone and turquoise in Tagabsha, Tagabghar and Sarbam Badqol areas of Waras district. He said Dahan-i-Mori area of Panjab district had marble stones and Sayara Dara area of the district had quartz stones.
"The natural resources surveyed have high quality of minerals and can generate long-term job opportunities for local people and add to the country's income if they are extracted," Lali said. However, he said some problems like lack of electricity, transportation routes, cold weather and impassable mountains prevented companies from developing the riches.
A lack of technical equipment and funds to conduct deep surveys and good marketing sources for minerals were other challenges facing the mining sector, he said. However, he said small contracts for extraction of some minerals including 500 tonnes of turquoise stones and 57,000 tonnes of decoration stones in Bamyan earned the government 2.3 million afghanis in revenue last year.