Samangan Wheat Harvest 28% down this Year
Tuesday 11 July 2017
AIBAK (Pajhwok) — A 28%t drop has been estimated in wheat harvest in northern Samangan province of Afghanistan this season despite 9% more land cultivated, an official says.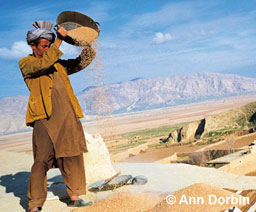 Najibullah Joya, an official at the provincial agriculture, irrigation and livestock department, told Pajhwok Afghan News that dry spell was the main factor behind the drop in wheat harvest this year. He said wheat cultivated on thousands of hectares dried in many areas due to the lack of rains. The affected areas include Qaflani, Koka Balaq, Alsha, Dara-i-Kalan, Kokjar, Omli, and Laili Sai of Harazat Sultan district and Shalkato, Shirkiyar, Do Koh, Manqotan, Akhta Khana, Rabatak and Taikhonak areas belonging to Aibak, the provincial capital, he added.
Last year, 95,000 tonnes of wheat was harvested from 115,000 hectares of land, including rain-fed, but a latest study estimated this year's yield at 68,000 tonnes from 125,000 hectares It seems that contrary to what the Ministry of Commerce and Industries has recently said Afghanistan is still far to become self-sufficient in wheat and flour production.
According to the provincial agriculture department, Samangan needs 80,000 tonnes of wheat per year. Growers start harvesting the crop in late May in the province where in some areas the harvesting is still ongoing.
Farmers also complained about the decreased wheat yield. Mohammad Amin, a resident of Shorab village of Khurram Sarbagh district, recalled his eight acres of land produced 1750 kg of wheat last year. But this year due to drought and lack of rains, he collected only 630 kg.
Meanwhile, Mohammad Rasool, another farmer hailing from Mullahtash Shirikyar village of Aibak, the provincial capital, said he cultivated two acres of rain-fed land with wheat crop, but it produced no grain due to the dry spell. Rasool said now he was obliged to sell his 15 sheep to buy wheat for consumption.
In Samangan province, important crops include wheat, melons, pistachio, almonds, potatoes, onions, and caraway. Karakul sheep and goats are the dominant household livestock. There is a tradition of meat, dairy, and wool production. Rugs are the main handicraft.
Potential areas for development include animal husbandry and breeding, perennial crop production, seed quality programs, improving infrastructures (transportation), value adding (product processing), post-harvest technology, and irrigation system improvement.