Pakistan Bans Fruit, Vegetable Imports from Afghanistan
Thursday 18 January 2018
PESHAWAR (Pajhwok, by S.Muddasir Ali Shah) — Fifty trucks laden with fresh fruits and vegetables from Afghanistan have been stopped at the Torkham border by Pakistani custom officials. The trucks were stopped as the Customs and Food Department has reportedly banned food imports from the landlocked country.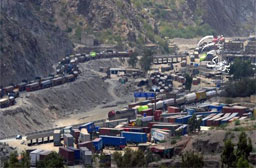 Certain conditions had been imposed by Pakistan on the imports of fresh and dried fruits, cooking oil and ghee from Afghanistan.
Angered by the restrictions, the All Torkham Customs Clearing Agents Association (ATCCAA) accused the customs department snatching businesses from the tribal people. Hayatullah Shinwari, president of the association, and other office-bearers told reporters transporters found the new conditions for the food import impossible to meet. If not allowed to proceed to their destinations, he warned, the fresh fruit and vegetables would perish. In reaction, Shinwari feared, Afghanistan might also stop import from Pakistan.