Thursday 18 October 2018
Kandahar Police, Intel Chiefs Killed, Gen. Miller Unhurt
Keywords:
0 forum post
KABUL (Pajhwok Afghan News): Kandahar police chief Gen. Abdul Raziq and the intelligence chief were killed and the governor, Tooryalai Weesa, injured in a shooting inside the governor's house in the southern province on Thursday, sources said. The firing erupted during a high level security meeting at the governor's house, where NATO and US forces top commander in Afghanistan Gen. Scott Miller was also present but he escaped unhurt.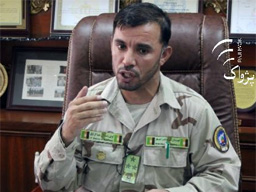 A security official said the incident resulted from firing by border policeman or from a nearby market. He confirmed the police chief had been killed. Another sources said governor Weesa and his spokesman Aziz Ahmad Azizi were also wounded in the shooting.
Deputy Kandahar governor for social affairs, Haji Agha Lali Dastagiri, told Pajhwok Afghan News that police chief Abdul Raziq and Kandahar National Directorate of Security chief Gen. Abdul Momin Hussainkhel had been killed and the governor, Weesa, was said to be wounded in the incident.
Pajhwok reporter in Kandahar Bashir Ahmad Naadim said the meeting at the governor's house was attended by the NATO commander, the governor, the military, police and intelligence chiefs:
When the meeting ended, some officials talked with reporters briefly and when the officials started leaving, a gunfire broke out. It created panic and people started running in all directions.
Earlier, Naadim said the fire erupted as soon as the NATO commander left the meeting room and proceeded towards his helicopter: "We are locked inside the governor's house with other officials, no one is allowed to go outside. The clash was likely between border police and intelligence officials." He said national television cameraman Salim was also killed.
A NATO spokesman said Gen. Miller was uninjured in the attack that left two American citizens wounded.
The Taliban have claimed responsibility for the incident, saying Gen. Raziq was among several others killed. Raziq had escaped multiple attacks on his life in the past.
A NATO statement earlier said:
There was a situation at the Kandahar palace today. Initial reports indicate this was an Afghan-on-Afghan incident. Two Americans were wounded in the cross-fire and they have been medically evacuated.

[…]

General Miller is uninjured. We are being told the area is secure.