Monday 10 December 2018
Iranian Weapons Seized from Ghazni House
Keywords: Iran
0 forum post
KABUL (Pajhwok Afghan News) — Police in southern Ghazni province of Afghanistan on Sunday claimed seizing Iranian weapons and arresting a suspect in connection with the seizure.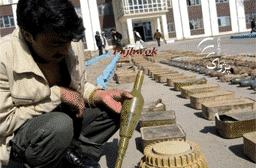 Ghazni police chief Brig. Gen Ghulam Dawood Tarakhel told Pajhwok Afghan News the weapons were confiscated from a house in the limits of 3rd police district of Ghazni City, the provincial capital. He said the Iranian arms included nine Kalashnikovs, five pistols, a hand grenade and a large number of bullets. He said owner of the house had been arrested.
Wahdatullah, a resident of Ghazni city, told Pajhwok the Taliban hid a lot of weapons inside people's houses after they attacked Ghazni city. "Police should search all houses", he said.
Few months ago, a large number of armed rebels stormed Ghazni City, resulting in hundreds of casualties.