Thursday 2 August 2018
Inauguration of Billion Dollar Projects in Samangan
Keywords:
0 forum post
AIBAK (Pajhwok Afghan News) — Nine construction projects costing $1 bln were inaugurated after their completion in northern Samangan province on Thursday. Economy, public health, higher education ministers and officials of the Indian Consulate General in Mazar-i-Sharif, the capital of Balkh province, and local influential figures were present at the projects' inauguration ceremony in Aibak, Samangan's capital.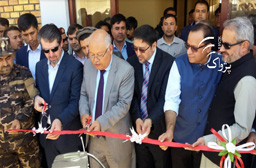 Governor Abdul Latif Ibrahimi appreciated the Indian government assistance in term of infrastructure development with his province and urged the Indian diplomatic mission to help them construct school buildings and provide people with clean drinking water.
Education Minister Mustafa Mastor on the occasion said that the new projects included a girls' hostel building, a building for a technical, professional school and the Bibi Fatima high school's building.
He added five hospital buildings were part of the projects to address healthcare related issues. He said construction work on these projects took one year and cost more than $one billion provided by the Indian government.
Meanwhile, Minister of Public Health Dr. Ferozoddin Firoz promised with Samanganis to establish a 200-bed hospital in near future.
During Soviet Invasion (1979–1989), India was one of the few countries in whole world which supported the Soviet Invasion of Afghanistan. India remained a close ally of communist Kabul Government but it lost goodwill of Afghans. India along with Iran and Russians supported Northern Alliance with money, arms and logistics. When Massoud was injured before 9/11 he was taken to Indian run hospital. However, India has helped Afghanistan by money, developmental projects, humanitarian aids. India support Afghan government resolve to eliminate complete Taliban.