Thursday 26 July 2018
EU Approves €98 mln to Support Afghanistan
Keywords:
0 forum post
KABUL (EU press service) — The European Union (EU) on Wednesday approved €98 mln to support Afghanistan in carrying out reforms to finalize and operationalize its development policies.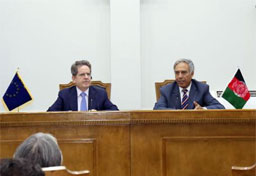 In a statement from EU delegation in Kabul the government was informed about its decision to disburse €98 mln to help Afghanistan maintain macroeconomic stability and mobilize domestic revenue, advance sound public financial management and strengthen state budget transparency. Pierre Mayaudon, EU Head of Delegation, said:
This direct budget support disbursement is once again a very tangible demonstration of the EU and its citizens' strong commitment to Afghanistan and its people.
The EU's decision follows a positive assessment on progress in these reform areas over the last twelve months against the background of a challenging context — part of a State Building Contract (SBC) signed with the government of Afghanistan during the Brussels Conference on Afghanistan on October 4, 2016 and which already provided €100 mln in 2017.
The EU direct financial contribution for Afghanistan is linked to results achieved by the government and recognizes its commendable efforts to create growth and jobs, improve accountability, ensure basic service delivery and address poverty during a time of political and economic uncertainty.
Complimentarily to the financial resources, under the SBC package the EU also provides valuable technical assistance and engages in high-level policy dialogue with the government and other stakeholders i.e. civil society and private sector.
Mohammad Qayoumi, acting Afghan Minister of Finance, said:
This contribution to the national budget demonstrates the significant progress in reforms, including our new transparent budget, ongoing work in reducing corruption, strong growth in revenue generation, and improved service delivery through the NPPs.
He said through budget support programs, such as the State Building Contract, the government of Afghanistan was able to respond more effectively to the country's priorities and ensure equitable development. "I thank the European Union and its member states for its support and commitment to the people of Afghanistan."