Wednesday 3 February 2021
Afghanistan, Uzbekistan and Pakistan Agree on Plan for Rail Link
Keywords: Pakistan
0 forum post
TASHKENT (UzReport) — Uzbekistan, Afghanistan and Pakistan on Tuesday agreed a project plan for a landmark multi-billion dollar rail link aimed at bolstering trade ties. The proposed 573-km railway would connect Uzbek capital Tashkent with Afghan capital Kabul and Pakistan's northern city of Peshawar.
The construction of the Mazar-i-Sharif to Kabul to Peshawar railway is expected to significantly reduce the time and cost of transporting goods between the countries of South Asia and Europe through Central Asia.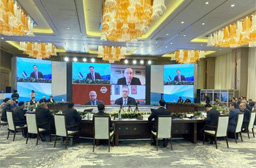 The signing ceremony for the project took place in Tashkent. The three rail link project countries last month signed a joint request seeking a $4.8 bln loan from international financial institutions for the Trans-Afghan transport investment.
Uzbekistan's deputy prime minister Sardor Umurzakov thik that peace and stability in Afghanistan would lead to development, economic growth and increased regional cooperation. He said:
A well-known fact is that the Central Asian states and Afghanistan do not have direct access to international seaports. In this regard, they bear significant transport and transit costs, which are two to three times higher than the similar costs of countries with free access to maritime communications. This problem has been particularly acute during the COVID-19 pandemic, which has imposed significant restrictions on international cargo transportation.
Last month, Pakistan's Prime Minister Imran Khan said his country's seaports provided a great opportunity for Central Asian states to access the Indian Ocean.
Iran's sole oceanic port Chabahar is also an option for Central Asian countries.