Afghan-Iran Trade Summit Held in Kabul
Tuesday 20 October 2015
KABUL (Pajhwok Afghan News) — A trade and investment summit involving Iranian and Afghan officials kicked off in capital Kabul on Monday. During the four-day meeting, officials from the two countries would discuss ways how to promote bilateral traded, investment and strengthen the private sector.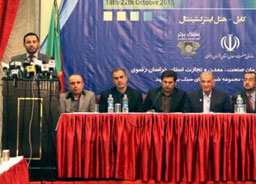 Mohammad Reza Karimzada, economic attaché at Iran Embassy in Kabul, said a 16-member team of Iranian officials had arrived in Kabul to discuss trade issues with Afghan counterparts. He said the two sides would also seek to resolve issues confronted being confronted by the two countries in areas of trade and commerce.
Ahmad Tawfiq Dawari, Deputy Finance Director at the Afghanistan Chamber of Commerce and Industry (ACCI), in his opening remarks told the summit that the current trade volume between the two countries stood at $2 bln. He said Afghanistan imported goods worth $1.7 mln from Iran and exported saffron, fruits and other products worth $300 mln to Iran. According to the ACCI official, Iran has invested $600 mln in Afghanistan's mining, construction and agriculture sectors.
Mohammad Ibrahim Shams, Afghanistan Investment Support Agency (AISA) deputy head, said he considered the meeting as important for the development of trade and attracting investment.
Mohammad Samadi, the head of Astan trade and commerce in Khorasan province, said Iran and Afghanistan shared a long border, enjoyed common religious and culture ties and both could enhance trade and commerce ties as well.
He said at the end of the summit, a Memorandum of Understanding (MoU) would be signed between the two sides on improved trade ties.