Tuesday 9 October 2018
Afghan Finance Minister, GCC Chief Discussed
Keywords: Saudi Arabia
0 forum post
RYADH (Saudi Press Agency) — The minister of finance of Afghanistan has held talks with the Gulf Cooperation Council (GCC) chief on cooperation in different fields, a news report said on Tuesday.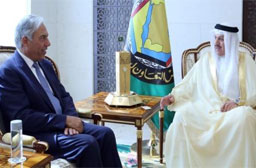 Dr. Hamayoun Qayoumi, who is also advisor to the president on infrastructure and human resource affairs, is currently on an official visit to the Kingdom of Saudi Arabia.
The Saudi Press Agency reported Qayoumi and GCC Secretary General Dr. Abdullatif Al-Zayani met in Riyadh on cooperation between the GCC and Afghanistan in economic, commercial, and investment fields. They explored ways of enhancing cooperation to the benefit of the two sides at the meeting, which was also attended by Afghan Ambassador Jalal Karim, members of the visiting delegation and GCC officials.
The Cooperation Council for the Arab States of the Gulf known as the Gulf Cooperation Council (GCC), is a regional intergovernmental political and economic union consisting of all Arab states of the Persian Gulf except Iraq. Its member states are Bahrain, Kuwait, Oman, Qatar, Saudi Arabia, and the United Arab Emirates. Its goals are mainly:
Customs union in January 2003.
Common market by 2007.
Common currency by 2010, not yet realized, otherwise the GCC monetary union would be the second largest supranational monetary union in the world, measured by GDP of the common-currency area.
Unified military (Peninsula Shield Force)
Other stated objectives include:
Formulating similar regulations in various fields such as religion, finance, trade, customs, tourism, legislation, and administration
Fostering scientific and technical progress in industry, mining, agriculture, water and animal resources
Establishing scientific research centres
Setting up joint ventures
Encouraging cooperation of the private sector
Strengthening ties between their people
The future of GCC is highly uncertain because of tensions with Qatar and instability in Yemen. Qatar's support for the Muslim Brotherhood across the MENA area, Hamas and radical Islamists in Libya has led to increasing tensions with other Arab states of the Persian Gulf. On June 5, 2017, Saudi Arabia, UAE, Bahrain and Egypt had officially cut diplomatic ties with Qatar. Various members put a ban on Qataris and their businesses. Qataris are not allowed to enter or live in the country unless they have a spouse living there Flights from Qatar are also not allowed to land there and vice versa.