Thursday 13 September 2018
Afghan Air Force to Take Delivery of Light Attack Helicopters
Keywords:
0 forum post
KABUL (Pajhwok Afghan News) — The first five light attack and reconnaissance helicopters ordered a year ago have arrived at the Kandahar airport, says a report.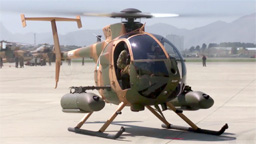 MD Helicopters Inc. — Arizona-based aerospace manufacturer — said the helicopters were part of a wider US Department of Defense (DoD) order for 150 MD 530F/MD 530G platforms. These models blong to the MD 500 series of of light utility civilian and military helicopters, developed from the Hughes 500, a civilian version of the US Army's OH-6A Cayuse/Loach. The series currently includes the MD 500E, MD 520N, and MD 530F.
The rotorcraft arrived at Kandahar Airfield aboard a US Air Force (USAF) Boeing C-17 Globemaster III strategic transport aircraft, IHS Jane's Defence Weekly reported.
"The MD 530Fs will be reassembled and tested over the next 10 days before being handed over to the Afghan Air Force (AAF) for operations," it added.
The AAF received 25 helicopters from 2011 to 2016. The remaining 25 helicopters from the latest order would be delivered in a year from now.