Sunday 10 June 2018
90% of Nimorz Women Wear Balochi Dresses
Keywords:
0 forum post
ZARANJ (Pajhwok Afghan News): About 90% of the women in northwestern Nimroz province wear Balochi dresses and 50% of them are associated with sewing the clothes.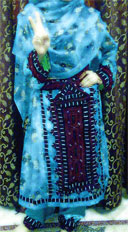 Shima Mohammadi, Women's Affairs official, told Pajhwok Afghan News that between 80 to 90% women wore Balochi dress called Zi Austin Gatten.She said every woman is busy with needlework as much as possible, but unfortunately, so far no institution had assisted them in promotion and marketing of their handicrafts.
Haji Malang Rasouli, a Baloch tribal elder, told Pajhwok that the certain dress was worn in Balochi parts of Afghanistan, Iran and Pakistan, but elsewhere. He added all women in Nimroz dressed the Balochi dress because it was a good veil covering full body, beautifully embroidered, and acceptable with high quality.
Previously carpet weaving had been one of the major income sources of Nimroz women, but that business dropped currently and most women sew cloths. Zahra, a resident of Chakhansoor district, said she had five children and her husband was ill and could not work. She sews cloths and meets family problems. She completes a dress in 20 days but said she had no money to buy pieces of cloths and other tools so she started sewing other people's cloths against 1,000 afghanis per dress to financial support her family. She added donor agencies had done nothing so far for promotion of women's handicrafts in the province.
Gul Jan, resident of Zaranj City, said market for such cloths has been good since the past and he daily sold more four dresses. He said the price of these dresses ranged from 3,000 to 20,000 afghanis, although mechanic or computerized sewed cloths are also available in the market but people preferred hand sewed dresses.