Turkmenistan and UNCTAD Discussed Cooperation Issues
Monday 13 November 2017
Keywords:
ASHGHABAT (Gov. press service) — On November 13, 2017, a meeting with the delegation of the United Nations Conference on Trade and Development (UNCTAD), headed by the Secretary-General, Mr. Mukhisa Kituyi was held at the Ministry of Foreign Affairs of Turkmenistan.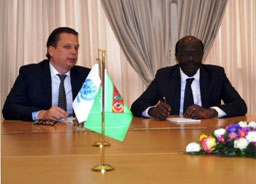 During the meeting, the Turkmen side stressed that cooperation with the UN and its specialized agencies remains an important direction for the country's foreign policy. It was noted the importance of Turkmenistan's cooperation with UNCTAD in the light of the exploration the possibilities of starting the process of accession to the World Trade Organization (WTO). It was noted that with the support of the President of Turkmenistan, special government commission was established in the country to study this issue.
It was stated that Turkmenistan will continue to work in this direction and, with the assistance of UNCTAD, will carry out follow-up activities to increase the capacity of the employees of the economic sector of Turkmenistan.
At the end of the meeting, the "Memorandum of Cooperation between the Government of Turkmenistan and the United Nations Conference on Trade and Development on priority areas of cooperation" was signed.
The Turkmen side stressed that the signing of the Memorandum clearly defined the vector of the priorities for cooperation with UNCTAD. The document outlined three main vectors of cooperation, namely:
investment promotion;
modernization of customs, transport and logistics;
facilitating the study of the question of accession to the WTO.
The document also allows cooperation with UNCTAD with new priorities, if necessary and on the initiative of the parties, which permits expanding the scope of interactions taking into account the multifaceted activities of UNCTAD, the rapidly developing economy of Turkmenistan and the realities of the modern world.