Friday 5 February 2021
Hundreds of Dead Deals on the Turkmen Coast of the Caspian Sea
Keywords:
0 forum post
ASHGABAT (Radio Azatlyk) — Hundreds of dead seals and thousands of fish have washed up on the Caspian Sea coast of Turkmenistan.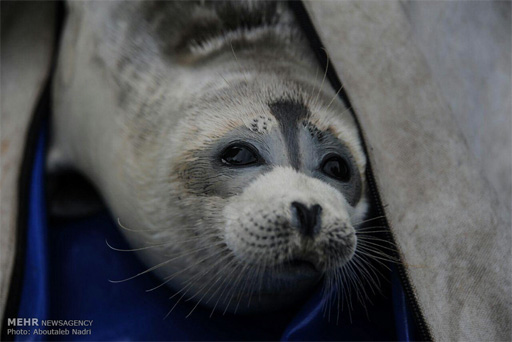 As an employee of the Maritime Border Service said on condition of anonymity, the authorities are withholding information about the incident and are trying to find out the reasons for the mass death of marine life. Late last year, several hundred dead seal carcasses washed up on the west coast of the Caspian Sea in the Republic of Dagestan of the Russian Federation.
"Dead seal carcasses have started to appear on the Caspian coast in the cities of Turkmenbashi and Kiyanly in the Balkan velayat since December last year. In January, sailors caught many dead seals. There are hundreds of them. In addition, there are many dead fish and birds on the coast", a maritime border service officer who witnessed the situation told the Azatlyk correspondent.
According to the border guard, who for security reasons asked not to reveal his identity, the Turkmen authorities are hiding the situation with the mass death of marine mammals and are trying to find out the cause of the incident.
"The bosses are strictly warning us to keep our mouths shut. Scientists in Ashgabat are trying to find out what caused the death of the seals, a virus or the dumping of waste from local factories", a border guard told our journalist on 3 February.
It should be noted that in December, when dead seal carcasses began to appear in Turkmenistan, about 300 dead mammals were also found on the west coast of the Caspian Sea in the capital of the Republic of Dagestan, Makhachkala. Russian scientists are still trying to understand the cause of the mass death of pinnipeds, offering different versions.
Several recent cases of large numbers of Caspian seals dying due to canine distemper virus have been reported, in 1997, 2000, and 2001. In April 2000, a mass die-off of Caspian seals was first reported near the mouth of the Ural River in Kazakhstan. It spread south to the Mangistau region, and by the end of May, more than 10,000 seals had died along the Kazakhstan coast. High death rates were also recorded in May and June along the Apsheron peninsula of Azerbaijan and the Turkmenistan coast.