Russian MTS Seeks $750 mln in Damage from Turkmenistan
Monday 30 July 2018
AMSTERDAM (TelecomPaper) — MTS, the mobile operator active in Russia and the CIS, has filed a request for arbitration against the government of Turkmenistan with the World Bank's International Centre for Settlement of Investments Disputes (ICSID). In September 2017, its wholly owned subsidiary MTS Turkmenistan was compelled to suspend its operations because of action by the government of Turkmenistan, including the Ministry of Communications and other state-owned and controlled entities.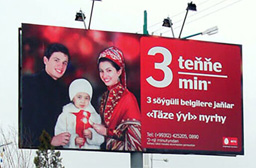 MTS considers that the Turkmenistan government has violated its rights as a foreign investor under the agreement on promotion and reciprocal protection of investments signed by the Russian and Turkmenistan governments in March 2009, ultimately resulting in the total expropriation of MTS' investment in Turkmenistan. MTS' total losses caused by the violation of its rights under the treaty have not yet been fully quantified, but are estimated to be at least $750 mln, according to MTS.
In accordance with the treaty, MTS has been pursuing an amicable resolution of this dispute, and gave formal notice to the Turkmenistan government more than six months ago of its intention to pursue relief under the treaty if no agreement could be reached. The agreement has not been reached and therefore MTS has announced that is initiating these legal proceedings before the ICSID in order to protect its legal rights and investments in Turkmenistan.
A year ago, in May 2017, the company representatives negotiated with the country's authorities to extend a license agreement. However, this did not bring about any results and the company shut down its operations. As a result, in the third quarter of 2017 MTS incurred losses of 1.1 bln rubles ( $18,5 mln), according to MTS CEO Andrey Dubovsky. This amount accounted for 50% of the total value of MTS Turkmenistan assets.
In June 2017 it was officially announced that a new mobile communications provider "Ai Nazar" was scheduled to be established in Turkmenistan using the technical facilities of the state-run operator "Altyn Asyr". However, since then there has been no news about the newly-established provider.