Thursday 21 May 2015
Pakistan Pushes Turkmenistan to Hasten Implementation of TAPI
Keywords:
0 forum post
ISLAMABAD (Radio Pakistan) – Pakistani Prime Minister Nawaz Sharif on Wednesday pressed Turkmenistan President Gurbanguly Berdimuhamedov to fast track the implementation of regional energy connectivity projects including Turkmenistan, Afghanistan, Pakistan and India (TAPI) gas pipeline project, Radio Pakistan reported. Emphasising on the early implementation of TAPI, Nawaz said that the project will prove to be a game changer and would help realise greater regional integration.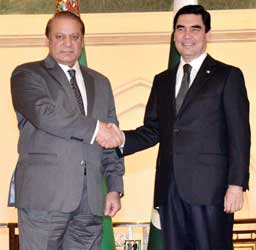 Addressing a joint news conference with the Turkmen President in Ashgabat on Wednesday, Nawaz expressed Pakistan's desire to boost ties with Turkmenistan in all sectors and revealed that both countries have agreed to boost bilateral trade, tourism and people-to-people contacts. Leaders also held delegation level talks and discussed ways to promote trade and strengthen cooperation in the fields of energy, anti-terrorism and anti-narcotics measures. They also discussed measures to enhance connectivity through road and rail networks.
The two countries will also sign a number of agreements and MoUs for cooperation in diverse fields.