Nowruz 2015 Celebrated in Turkmenistan
Saturday 21 March 2015
Keywords:
ASHGABAT (CIHAN) – Nowruz is being celebrated across Turkmenistan with great enthusiasm. This year Ahal Plateau, located 20 km far away from central Ashgabat was became a playground of the colourful celebration in which, along with people, many ministers and foreign mission chiefs participated to the festivities.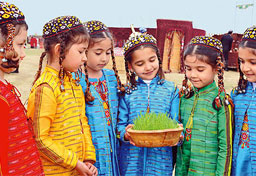 Setting traditional Turkmen tents, many folk dances, which was performed by the professional dancers drew great attention among the followers. Show performed by famous Turkmen horses also charmed the spectators. Semene, a desert generally is prepared by pullulated wheat and other Turkmen delicate are eaten in the celebrations.
Meanwhile congratulating the Nowruz of Turkmen people Turkmenistan President Gurbanguly Berdimuhamedov published a Nowruz message in which Berdimuhamedov said that Nowruz is a rich cultural legacy and wonderful celebration contain many consuetudes in it. In his message Turkmen president also noted that it has been designated an international identity to this celebration which make familiar many peoples.
In 2013, Turkmenistan turned into the centre of the world-wide celebration of the International Day of Nowruz. An international conference called Nowruz – Holiday of Peace and Humanism was held at the Ruhiyet Palace in Ashgabat. It was chaired by President of Turkmenistan Gurbanguly Berdimuhamedov in person. The Nowruz festivities in Ashgabat, including the international conference were attended by the UN Deputy Secretary-General, Director-General of the UN Office in Geneva Kasymzhomart Tokaev, Afghan President Hamid Karzai, President of Tajikistan Emomali Rahmon, President of Pakistan Asif Ali Zardari, President of Iran Mahmoud Ahmadinejad, President of the Republic of Tatarstan of the Russian Federation Rustam Minnikhanov, as well as Deputy Prime Minister of Azerbaijan Elchin Efendiyev, Minister of Energy and Natural Resources of Turkey Taner Yildiz, Minister of Culture, Information and Tourism of Kyrgyzstan Sultan Rayev and Deputy Chairman of the Parliament of Kazakhstan Kabibulla Dzhakupov. More than 30 countries sent their representatives to this conference. Among the foreign participants were the heads and representatives of the Academies of Science, major scientific and cultural centres, universities, the United Nations Educational, Scientific and Cultural Organization (UNESCO).