Tuesday 11 July 2017
New Shopping and Service Centre opens in Ashgabat
Keywords:
0 forum post
ASHGABAT (Turkmenistan.ru) — New Shopping and Service Center Altyn Zaman ("Golden Age") has opened in Ashgabat.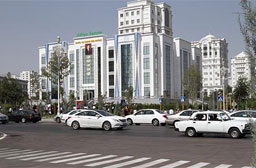 The four-story building accommodates specialized shops occupying about 3,000m². They offer a variety of household goods, building materials, furniture, household appliances, carpet products and many other goods.
Trade is developing rapidly in Turkmenistan. Modern shopping centres, shops and markets with high quality services operate in Ashgabat and the regions of the country. The main goal of the industry is to ensure abundance of commodities in the domestic market. The biggest and best supermarket in town is probably the Yimpaş, a huge Turkish shopping complex.