Tuesday 24 July 2018
Khalifa Bin Zayed Hospital Inaugurated in Turkmenistan
Keywords:
0 forum post
ABU DHABI (The Gulf News) — The Khalifa Bin Zayed Al Nahyan Foundation (KF) has opened the Sheikh Khalifa Bin Zayed Al Nahyan paediatric hospital in Mary province, Turkmenistan, at a cost of $30 mln.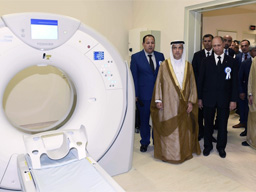 Construction of the hospital is in line with the directives of President Sheikh Khalifa Bin Zayed Al Nahyan, and Sheikh Mohamed Bin Zayed Al Nahyan, Crown Prince of Abu Dhabi and Deputy Supreme Commander of the UAE Armed Forces, to provide humanitarian and development support to Turkmenistan and develop its health sector.
The launch of the hospital is an innovative model of overall partnership in humanitarian and paediatric medical care of the UAE, and is part of Year of Zayed 2018. Mohammed Haji Al Khouri, Director-General of the Foundation, said that the 120-bed hospital will help develop Turkmenistan's health sector, while adding that it reflects the UAE's humanitarian and development approach towards underprivileged people, and its efforts to provide health and consultation services to various communities, as per the highest international standards.
The launch ceremony was attended by Al Khouri, Minister of Health Protection and Medical Industry of Turkmenistan, Annaberdiyev Dovranberdi Orazberdiyevich, Governor of Mary province, Abdulaziz Al Hashemi, Charge d'Affaires of the UAE Embassy in Turkmenistan, and several officials and employees of the country's health sector.
The ceremony included a tour of the hospital's treatment units, and the ward where children and their families are staying in joint multi-bed rooms, as well as its operations rooms and intensive care units.