Gas Row between Iran, Turkmenistan Soars
Tuesday 30 January 2018
BAKU (Mehr News) — Iran is filing another complaint to the International Court of Arbitration (ICA) against Turkmenistan as the gas dispute is rearing its head again.
"Turkmenistan claims that Iran owes them $1.5 bln, but we believe that this figure is not correct", Iranian Oil Minister Bijan Zangeneh said on January 29, IRNA reported. This price is very high and should be decreased, according to the Iranian official.
"Another complaint is about the quality of the gas imported from Turkmenistan", he said.
As of January 1, 2017, Turkmenistan cut gas supply to the Islamic Republic for the delayed payment. Central Asian nation had stopped gas exports because of arrears, which amounted to about $1.8 bln and dated back more than a decade.
The National Iranian Gas Company (NIGC) claimed that Turkmengaz, the Turkmen state gas company, had cut gas supplies to Iran — violating a 20-year-old gas deal.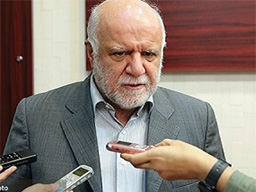 A "two-fold" dispute
Iranian Minister of Petroleum Bijan Namdar Zanganeh told the media on Monday that Iran's complaint against Turkmengas is two-fold. "We are planning to take dispute with Turkmenistan's state owned gas company, Turkmengas, over the quality of the delivered gas to International Court of Arbitration," said Bijan Namdar Zanganeh, the Iranian Minister of Petroleum, on Monday.
He added that Iran is planning to lodge another complaint against Turkmenistan over the price, as Mr. Namdar Zanganeh holds that the price set by the Turkmens is too high, and they should review it.
"Tehran and Ashgabat are reciprocally following complaints against each other", recounted the Iranian oil minister. "They are claiming that Iran owes them $1.5 bln in payments for gas delivered to Iran, but we hold that we have paid off our debt and the number is not correct", said the Iranian minister.
An institution for the resolution of international commercial disputes, the International Court of Arbitration is part of the International Chamber of Commerce (ICC) headquartered in France's capital city of Paris. The court is made up of more than 100 members from about 90 countries.
Turkmenistan's decision to unilaterally halt natural gas supplies to Iran in December 2016 is considered a violation of the terms of its contract with Iran. The country increased gas prices nine-fold to $360/1,000 m³ from $40.