Chinese CSR Wins Contract with Turkmenistan
Wednesday 6 February 2013
BEIJING – Shanghai-listed railway equipment manufacturer CSR Corp. Ltd. won bids for contract in Turkmenistan on February 4. Turkmenistan ordered 154 passenger cars and they will be delivered this year. CSR's wholly owned subsidiary in Nanjing will make the cars.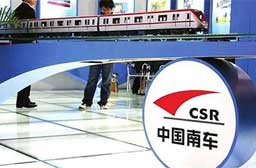 CSR did not say how much the contracts were worth. However, a CSR source said the usual price for for 154 cars was 400 mln yuan.
Last month, CSR's subsidiary in Qingdao, Shandong Province, won a 3.43 bln yuan contract to make electric train units for Argentina. It was the largest South American contract by value for a Chinese railway equipment manufacturer. CSR is in talks with several international clients for other contracts, the source at the company said. This year its overseas sales are expected to surpass those of 2012.
CSR's revenue in the first half of last year was 42.4 bln yuan, up 5.8% compared to the same period in 2011, its financial report shows. Its revenue from overseas over that period was 4.8 bln yuan, rising 95.58%. The company's overseas revenue over the first six months of 2012 accounted for 11.33% of its total revenue, the first time the figure reached double-digits.