Tuesday 16 April 2019
Transport Will not Increase in Dushanbe
Keywords:
0 forum post
DUSHANBE (TajikTA) — The issue of rising public transport prices is not on the agenda, said Dushanbe City Hall.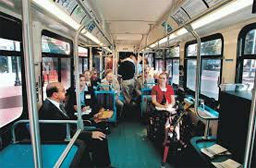 It should be noted that rumours about the increase in public transport prices in the second month are exaggerated by the population.
The last price increase for transport took place in February 2018. Then, the price in the capital's trolleybuses was set at 1 somoni, in the buses - 1 somoni 20 diram, by minibus - 1 somoni 60 diram.
Searches are organized in accordance with the decree of the town hall, which prohibits the transport of standing passengers on public transport, including minibuses.
According to the Ministry of Interior, 1,292 minibus drivers in Dushanbe were fined one week's salary for transhipping public transport. For changing the itinerary, drivers of 47 urban minibuses were fined. «»