The Railway Project Tajikistan-Afghanistan-Turkmenistan Discussed in Ashgabat
Saturday 8 July 2017
ASHGABAT (Avesta news agency) — The information department of the Ministry of Foreign Affairs of Tajikistan reported that Tajikistan's Ambassador to Turkmenistan Farrukh Sharifzoda (فرّخ شریفزاده) met with Turkmenistan's railroad minister Deryaguly Byashimov in Ashgabat. The parties discussed issues of enhancing cooperation on various aspects related to the development of railways.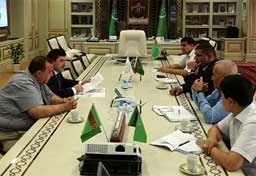 In particular, the issues of implementation of the regional railway project Tajikistan-Afghanistan-Turkmenistan were discussed.
Issues of rail transportation along the old routes at preferential tariffs and strengthening of interdepartmental relations were also discussed.
Recall that the memorandum on the construction of the Tajikistan-Afghanistan-Turkmenistan railway was signed in March 2013 by the presidents of the three countries.
Previously, the Asian Development Bank (ADB) allocated $ 9 mln of grant funds for the development of a feasibility study for the future railway, promising to finance the construction of the Afghan section of the project. But in December 2015 ADB suspended the support of this project due to the tense situation in Afghanistan.
Formerly, there were controversial points on the choice of the route for this connection through the territory of Afghanistan. Two routes were proposed. The shorter route proposed by Tajikistan is 160 km long while those proffered by the Afghan side was more than 500 km. As a result, the parties managed to agree and sign an appropriate protocol.
Last year, the Tajik side stressed that the construction of the Afghan section of the Tajikistan-Afghanistan-Turkmenistan railway project is still in question due to the unstable situation in the neighbouring country.
The first stage of the transnational railway running through the territory of Turkmenistan to the Afghan border of Atamyrat-Ymamnazar (Turkmenistan) — Akina (Afghanistan) was commissioned in December 2016.