Thursday 29 March 2018
The Largest Flour Mill Inaugurated in Tajikistan
Keywords:
1 forum post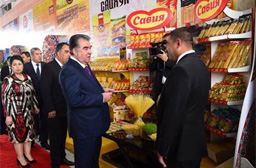 DUSHANBE (Avesta news agency) — During his working visit to the cities and districts of Sughd region, President Emomali Rahmon, took part in the ceremony of commissioning the second flour production line based on Anchor LLC at Buston (بوستان).
As the press service of the head of state reports, an exhibition of industrial products of Sughd region enterprises was organized at the entrance of Ankhor LLC.
During familiarization with the activities of the enterprise, the president was informed that the company can process 380 tons of wheat a day. The new flour mill is the largest enterprise producing flour in the republic.
Before the commissioning of the new flour factory, Anhor LLC processed 120 tons of wheat per day and supplied flour to the Mark Zarzamin, Behtarin and Mahsus
With the commissioning of a new production line, the capacity of the enterprise is 500 tons of wheat per day.