Friday 5 April 2019
The Improvement of Tajikistan's International Rating Discussed in Dushanbe
Keywords: World Bank
0 forum post
DUSHANBE (Satrapia) — Issues related to improving Tajikistan's international business ranking were discussed yesterday in Dushanbe at a meeting held by Deputy Prime Minister Davlatali Said. The meeting was attended by the heads of ministries and departments of the Republic.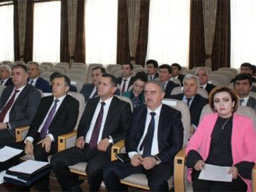 Tajikistan's downgrading of three positions by the World Bank's Doing Business was explained by strong competition between countries in the region. In 2018, Tajikistan ranked 123rd in the Doing Business ranking while in the current year's ranking, it fell to 126th place.
The Doing Business rating is based on 10 indicators: company registration, electricity grid membership, building permits, property registration, access to credit, protection of minority investments, taxation, implementation of agreements, international trade development and solvency.
Tajikistan has improved its position in some rating indicators; however, in others it has deteriorated, resulting in the loss of positions. In this regard, the need to continue reforms to improve the situation by establishing close contacts between government agencies and the private sector was stressed during the meeting.
After the meeting, Deputy Prime Minister Davlatali Said assigned heads of ministries and departments responsible for specific tasks to improve the business and investment climate.