The 1st Exhibition of Indian Goods in Dushanbe
Saturday 21 February 2015
DUSHANBE (Asia-Plus) – The first exhibition of Indian goods kicked off in Dushanbe on February 20.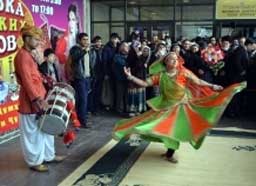 Organized by Tajikistan's Chamber of Commerce and Industry (CCI) and the INDO RUSSIA EXPO Exhibition Company under support of the Government of Tajikistan, the exhibition is being held at the Kokhi Borbad State Complex.
More than 20 Indian producers have put on display their achievements in jewelry, production of consumer goods and souvenirs and relevant industries at the fair that runs through March 1.
Senior representatives from Tajikistan's CCI say the exhibition is organized for the purpose of attracting investments and new technologies and expanding ties between business communities of the two countries.