Friday 13 March 2015
Tajikistan, Switzerland Sign $9 mln Agreement for Water Supply Improve
Keywords:
0 forum post
BISHKEK (AKIpress) – The Swiss Government will allocate a $9 mln grant for Tajikistan to improve water supply in the country. The agreement was signed by Minister of Finance of Tajikistan Abdusalom Kurbonov and Director of the Swiss Cooperation Office in Dushanbe Peter Mikula.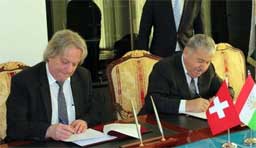 The second phase of the water supply development project will cover bout 140 thousand people in the northern cities of Tajikistan and the city of Khorog. The total project cost is about $18.1 mln, $9 mln of which are provided on a grant basis by the Swiss government and the remaining $9.1 mln will be supplied by the European Bank for Reconstruction Development (EBRD).
The project will be implemented until 2018. It involves installation of additional equipment, acquisition of operational and maintenance equipment, construction of new water tanks, repair and construction of water intakes, hydrological research, improvement of municipal storage and treatment of wastewater, and other.
Water supply and sanitary in Tajikistan are neither safe, nor adequate. Waterborne bacteria, such as those causing diarrhoea and typhoid, are widespread, especially in rural areas. There are some reasons of bad condition of water and sanitary services in Tajikistan. As well as in other sectors, the difficulties caused by the post Soviet transition to market economy and civil war, have worsened an infrastructure of water supply. A low level of official budgetary appropriations and difficulties with gathering payment at water-users has strongly limited internal financing, which has appeared insufficiently to execute essential requirements of capital investments. Even if financing would be increased, it is doubtful, that bodies of water supply could effectively to distribute resources in sector with account of its many urgent needs. In addition to investments structural reforms are necessary for increase efficiency of maintenance services and strengthening of stimulus of rational water consumption.