Tajikistan Refuses to Supply Electricity to Kyrgyzstan at 2014 Tariffs
Tuesday 28 April 2015
DUSHANBE (Asia-Plus) – Tajikistan has refused to supply surplus electricity to Kyrgyzstan during summer period at 2014 tariffs.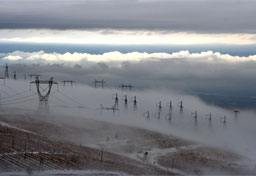 "Negotiations on electricity supplies for this year have been conducted in Dushanbe this month but the sides have failed to agree on electricity prices", Nozir Yodgori, a spokesman for Barqi Tojik (Tajik electricity supplier), told Asia-Plus in an interview. According to him, Tajikistan is ready to supply surplus electricity to the neighbouring country during the summer period at the rate of ¢3.5/kWh while Kyrgyzstan wants to buy Tajik electricity at the rate of ¢2.0/kWh. "Barqi Tojik considers the prices offered by the Kyrgyz side unacceptable because this price does not cover even Barqi Tojik's expenses", Yodgori said, adding that Kyrgyzstan is currently studying the price offered by Tajikistan.
In 2014, Tajikistan supplied 226.7 mln kWh of electricity to Kyrgyzstan during the summer period at the rate of ¢2.0/1 kWh. Meanwhile the current price of one kilowatt-hour electricity for residential customers in Tajikistan is 12.6 dirams (current average market buying exchange rate of the dollars against the somoni is 1:6.50).