Saturday 8 July 2017
Tajikistan and the US Discussed Trade and Economic Cooperation
Keywords: USA
0 forum post
DUSHANBE (Avesta news agency) — According to the information department of the Ministry of Foreign Affairs of Tajikistan, Tajik ambassador to the US Farhod Salim (فرهاد سلیم) held a meeting with US Assistant Representative for Trade with Central and South Asia, Mark Linscot. The meeting was held at the office of the US Trade Representative (USTR).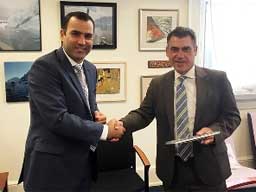 During the meeting, issues of bilateral cooperation between the United States and Tajikistan in the sphere of trade, economy and energy were discussed.
Also, the sides highly appreciated the level of relations within the World Trade Organization, the CASA-1000 project and the Framework Agreement between the Governments of the United States and Central Asian countries on trade and investment (TIFA).