Friday 24 May 2019
Tajikistan and Syria Cooperate to Identify Jihadists
Keywords: Syria
0 forum post
DUSHANBE (Ministry of Foreign Affairs press service) — During the working visit of the Tajik Ambassador to Kuwait, Zubaidullo Zubaydzoda, on 21 and 23 May in Damascus, the two countries declared their willingness to cooperate in identifying Tajik citizens present in Syria.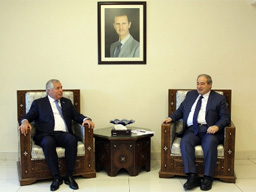 In Damascus, the Tajik diplomat met with Syria's first Deputy Foreign Minister, Faisal Al-Mikdad. The Ambassador delivered a letter to the Syrian Minister of Foreign Affairs and Expatriates, Walid Al-Muallim, on behalf of the Minister of Foreign Affairs of the Republic of Tajikistan, Sirojiddin Muhriddin, with a view to strengthening bilateral relations.
During the meeting, the parties discussed the development of bilateral relations between the two countries and the establishment of cooperation in any mutually beneficial area.
They discussed in particular the joint fight against terrorism and extremism, cooperation to discover the identity and number of citizens of Tajikistan and their return to their countries of origin.
The situation in the world and in the Middle East was also discussed.
The parties stressed the need to exchange official visits at different levels and to organise political consultations between the two Ministries of Foreign Affairs in 2019.