Monday 8 October 2018
Tajikistan and India Sign 10 Cooperation Accords
Keywords: India
0 forum post
DUSHANBE (Tajik Presidency press service) — Today in Dushanbe, following the meeting of the President of Tajikistan Emomali Rahmon with the head of India, Sri Ram Nath Kovind, 10 new agreements regulating Tajik-Indian cooperation were signed.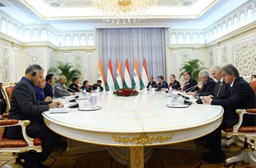 "In particular, during the meeting of the presidents and the extended delegation of the parties, the main directions of cooperation between Tajikistan and India, fixed by more than 60 regulatory documents, were discussed. Given the wide investment opportunities and the presence of large material reserves at the disposal of Tajikistan, the parties expressed interest in creating joint ventures and using advanced Indian technologies in the Republic of Tatarstan", the press service of the head of state said.
According to the source, among the signed documents were a memorandum on cooperation in the areas of disaster management; the peaceful uses of space technology for development, on cooperation in the youth field; on energy and on medicine.