Tajikistan and France to Increase Cooperation in the Customs Area
Wednesday 5 July 2017
DUSHANBE (Avesta) — Prospects for development of cooperation were discussed yesterday at the meeting of Tajik Customs Chief Abdufatoh Goib with the Ambassador of France to the Republic of Tajikistan, Ms Yasmin Gouédar.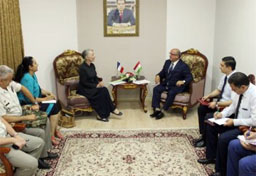 According to the press centre of the Tajik customs service, during the conversation A. Goeb said that the customs service of Tajikistan will create all conditions for the development of trade and economic cooperation between the countries.
In particular, it was noted that bilateral cooperation in the customs sphere is established in the framework of legal acts of international organizations, including the World Customs Organization and the World Trade Organization.
In turn, the French ambassador said that, within the framework of her powers, she will do everything necessary to develop bilateral cooperation.
The trade turnover between the two countries last year amounted to $13 mln, its increase was 34%. This figure for five months of this year amounted to $2.1 mln.