Tajik, Russian Presidents Meet on Regional Issues
Thursday 8 October 2015
DUSHANBE (Avesta news agency) — Tajik President Emomali Rahmon met Tuesday with his Russian counterpart Vladimir Putin in Russia's Sochi, the Tajik presidential press service said Wednesday. During their talks, Rahmon and Putin discussed issues related to bilateral cooperation between the two countries and the current situation in the region.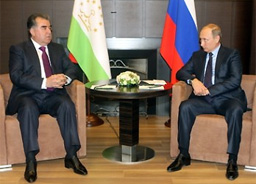 Putin highly appraised the level of cooperation between Tajikistan and Russia based on strategic partnership. "We attach significance to cooperation with Russia and we will do our best to promote further expansion of this cooperation", said Rahmon. He stressed that a rapidly changing situation in the world required an effective interaction.
The sides also discussed issues on military and technical cooperation between their countries, as well as the strengthening of Tajikistan's common border with Afghanistan. "The situation in Afghanistan is getting worse by the day. Practically, fighting is going on along more than 60% of the Tajik border with Afghanistan", said Rahmon. "We are certainly worried about the situation along the Tajik-Afghan border, and today we need to discuss regional security", Tajik President said.
A Kremlin spokesman told reporters on Tuesday that there were no agreements made "to increase presence there, but Putin and Rahmon agreed that what is happening in Tajikistan and the surrounding areas is a cause of concern." But on Wednesday, a representative from Russia's Central Military District, as reported by Sputnik, told reporters that Russia would be bolstering its military assets in Tajikistan with additional helicopters, including Mi-24P attack and Mi-8MTV transport and combat helicopter.